Investor Relations
Web
In our new blog, the IR Mall, we plan to publish additional facts, commentary and insights about Deutsche EuroShop and details that many investment professionals ask us about. As the IR Mall evolves we'll provide a wide range of information on a diverse set of topics: from investor relations and explanations of financial details to news from our shopping centers and market developments – and more.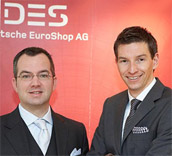 Our bloggers are Patrick and Nicolas. As a well-rehearsed IR-team we look forward to further strengthen our relationship with you as member of the investment community. For that we need your co-operation: Please help us to keep the blog's atmosphere consistently friendly, bright, safe and clean – as we do in our shopping centers.
We hope you find the IR Mall window shopping very useful as we gather and grow news, impressions, interviews and facts from and about our company and shopping center portfolio. Ideally, our blog offers you a great place to become more informed.
Please let us know what you think of our posts by leaving a comment on the site. We want to listen and learn. The more feedback we can get the more we can address the specific interests you might have about life and the "shop-windows" in the Deutsche EuroShop IR Mall.
We look forward to hearing from you.