Executive Board Spokesman Claus-Matthias Böge presented Deutsche EuroShop's preliminary figures for the 2014 financial year in Hamburg today. The webcast of the telephone conference including the slide presentation is available now:

After the call we got some questions regarding the calculation of the net asset value (NAV) and the triple net asset value (NNNAV), which we would like to answer here for everyone:
Net Asset Value (EPRA)


NAV per share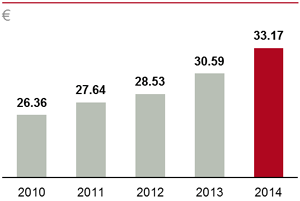 EPRA also recommends that an EPRA NNNAV be calculated, which should roughly correspond to the liquidation value of the company. This adjusts the EPRA NAV to take account of hidden liabilities or undisclosed reserves resulting from the market valuation of bank loans and overdrafts, as well as deferred taxes. As at 31 December 2014, EPRA NNNAV amounted to €1,432.0 million respectively €26.54 per share.
Triple Net Asset Value (EPRA)