We want to share with you some information about the trading of Deutsche EuroShop's shares and its weighting in different important indices.
Order book turnover (€) in the last 12 months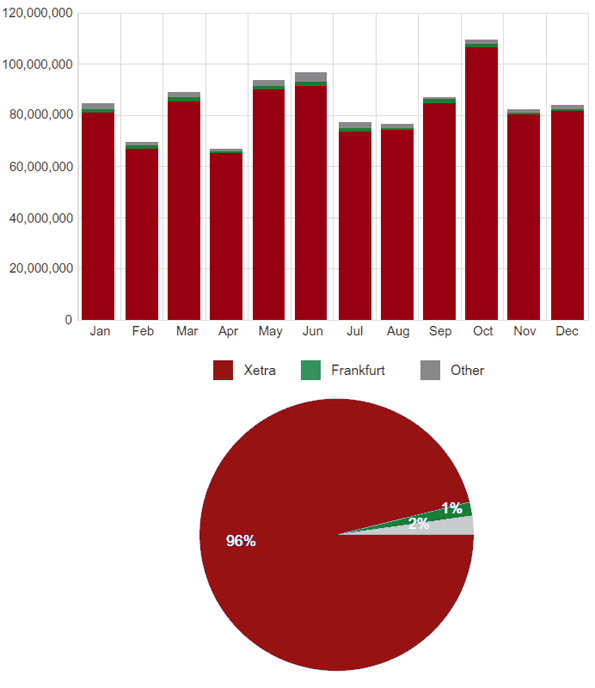 In total, 29,611,711 DES-shares with a volume of €1.018 billion were traded in 2014.
Please keep in mind, that Xetra, Frankfurt and the so called "other" in this context only show the trading activities on platforms of Deutsche Börse. They represent approx. 50% of the total trading activities in Deutsche EuroShop shares. The remaning activities take place on BOAT, Chi-X, Turquoise, BATS and many more platforms.
Index Weighting (30.12.2014)
| Last in month | Weight |
| --- | --- |
| CDAX-GESAMTINDEX (PERF) | 0.16% |
| CLASSIC ALL SH. TR | 0.87% |
| DAX INTERN. 100 TR EUR | 0.15% |
| DAXSEC. ALL FIN.SERV.TR | 3.58% |
| DAXSEC.FIN.SERV. TR | 4.31% |
| DAXSUB.ALL REAL EST.TR | 5.28% |
| DAXSUBSEC.REAL EST.PR | 6.45% |
| DAXSUPERSECTOR FIRE TR | 2.81% |
| HDAX PERFORMANCE-INDEX | 0.16% |
| MDAX PERFORMANCE-INDEX | 1.23% |
| MIDCAP MKT TR | 0.94% |
| PRIME ALL SH. TR | 0.16% |
| RX REAL ESTATE TR | 14.09% |