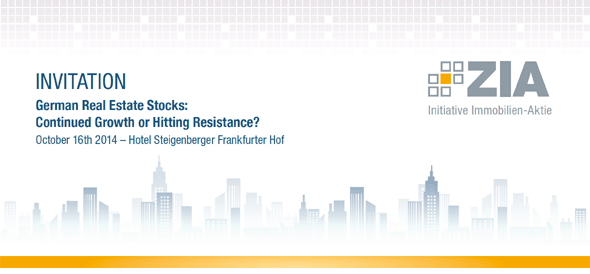 German Real Estate Stocks:
Continued Growth or Hitting Resistance?

This year's conference (Frankfurt, 16 October 2014) will focus on the most pressing industry themes. Against a macroeconomic backdrop in Germany, some questions remain: At what point in the cycle are real estate stocks? Lies further growth ahead?
Additionally, the following topics will be addressed:
State of Affairs – How has the asset class performed?
Corporate Governance – What does the market expect?
Transparency in reporting – What are investors looking for?
Foreign Listed Real Estate Players in Germany – What are they seeing that we can't?
Consolidation or Growth – Is the commercial property sector catching up?
Company presentations with a focus on individual business models and status quos will round out the conference program.
As in years past, we will host a soiree at Restaurante da Luca on October 15th as a prelude to the conference.
We look forward to welcoming you in Frankfurt.
All details of the conference can be found in the programme-pdf, which you can download here (PDF, 1.2 MB).