General Meeting 2013
The Annual General Meeting of Deutsche EuroShop AG took place on 20 June 2013 at 10.00 a.m. (CEST) at the Handwerkskammer Hamburg, Holstenwall 12, D-20355 Hamburg.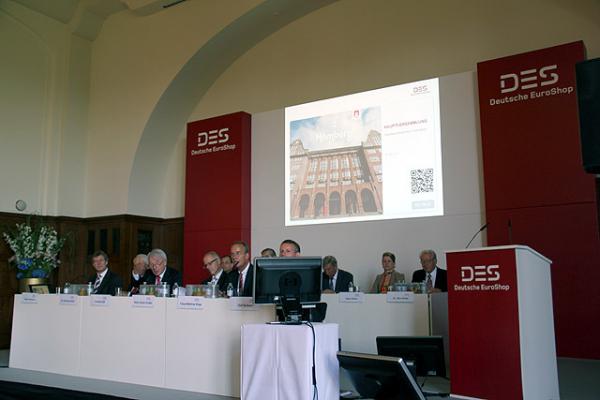 The following downloads are currently available:
Electronic Registration for Shareholders
Please click here for submitting your registration electronically. In addition to electronic registration, we also offer the opportunity to appoint a proxy or issue voting instructions. Please refer to the registration documents sent to you for more details.
Voting Results:
Agenda item

Votes with "yes"

%

2 - Utilisation of unappropriated surplus (Bilanzgewinn)

30,593,857

100

3 - Approval of the actions of the Executive Board

30,531,602

99.849

4 - Approval of the actions of the Supervisory Board

24,639,428

99.791

5 - Election of the auditors for financial year 2013

30,541,209

99.985

6 - Elections to the Supervisory Board
a) Manfred Zaß
b) Alexander Otto
c) Dr. Henning Kreke


28,377,658
29,544,897
28,711,297


92.863
96.668
94.937

7 - Resolution regarding the cancellation of the existing authorised capital 2010 and the creation of new authorised capital 2013 as well as related amendments to the Articles of Association

27,305,995

89.470
Presence of voting rights = 56.729%
AGM Agenda
For AGM dates of other German listed companies please click here.
---
Please note:
You will need "Adobe Acrobat Reader" to read PDF files. If this is not yet installed on your PC, you can download the latest version for free
here
.