Investor Relations
Share
The Executive Board and Supervisory Board of shopping center investor Deutsche EuroShop AG intend to gradually increase the dividend by EUR 0.05 per share in each of the 2017 and 2018 financial years. As a result, the dividend will have increased to EUR 1.50 per share by 2019. This would correspond with an absolute increase of 7.1% and an average annual increase of 3.5%.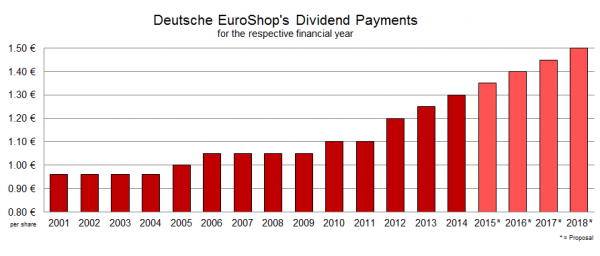 "With these measures, we aim to continue our long-term, reliable dividend policy," explains Wilhelm Wellner, CEO. "Our goal remains to distribute an attractive dividend every year."
Dividend proposal for FY 2015: €1.35 per share
The Executive Board and Supervisory Board propose to the shareholders at the Annual General Meeting in Hamburg on 15 June 2016 that a dividend of €1.35 per share be distributed for financial year 2015. An estimated €0.63 per share of the dividend will be subject to the deduction of capital gains tax.